HOW THE HYDROSWEEP KEEPS YOUR SHORE CLEAN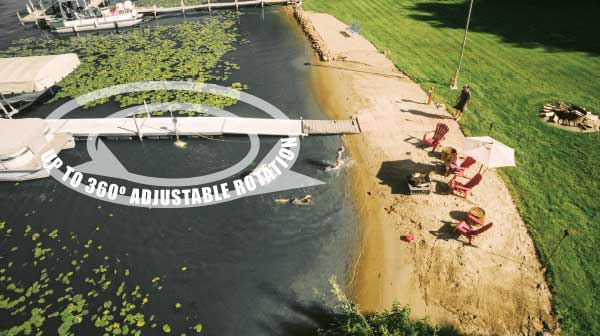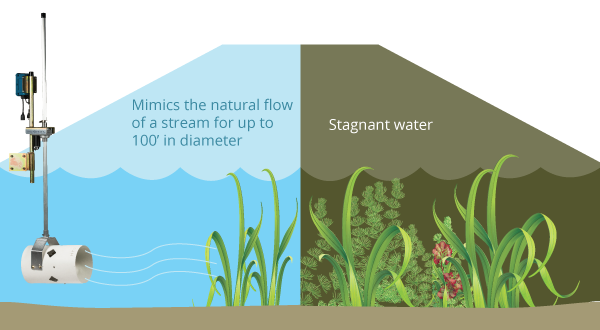 SafeShore's products are custom designed and engineered for maximum performance. The HydroSweep Pro is a fully adjustable dock mounted thruster that keeps waterfronts, dock areas, and ponds clean from algae, trash, and decaying surface debris by mimicking natural water movement.
When installed 12 inches off the waterfront floor, the HydroSweep Pro produces optimal results, leaving a clean and safe shoreline for you and your family. SafeShore has worked closely with the Department of Natural Resources to ensure that the HydroSweep Pro remains an effective way to maintain waterfront and wildlife health by mirroring the natural movements of lakes, rivers, and streams.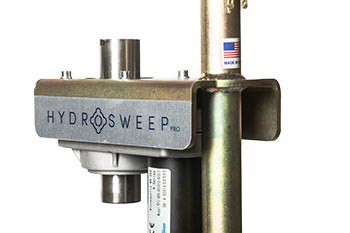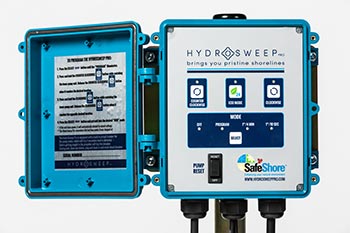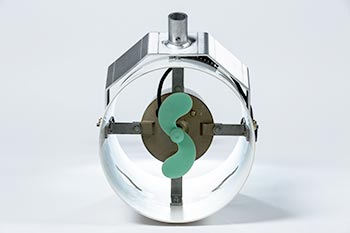 SAFETY
HydroSweep Pro is simply one of the safest, most effective, and most environmentally responsible way to enjoy your lakefront area without risking harm to the natural ecosystem of our beautiful lakes.
AUTOMATICALLY PROGRAMMED
To facilitate and maximize your control of the dock area, the HydroSweep Pro is fully programmable, allowing you to control the direction of the 1400 gallons of water that it pumps every minute. This higher volume of water movement, nearly three times that of many devices, allows for effective agitation of up to 50 feet in any direction. This means that HydroSweep Pro can improve your beach and shoreline waters for a range of 100 feet in diameter.
RANGE OF EFFECTIVENESS
The range of effectiveness is an estimate based on a number of variable factors. Performance may be reduced in deeper waters, or in steep drop-off in the lake floor; and obstructions, such as dock legs, wheels, or boatlifts will also affect range. Extensive testing, however, has confirmed an average of 100 feet range of effectiveness.